Welcome to the "Members Only" Area of the British Inflatable Hirers Alliance (BIHA)
And congratulations on your very smart decision to join….
You are in for a real treat. This membership website at biha.org.uk and the sister site and forum at BouncyCastleOwner.com is going to give you value beyond belief and should be a real game-changer for your inflatable hire business.
I hope you enjoy your membership to both websites, there is so much more to come….
**Also, don't forget to join our Facebook Group at: BIHA Facebook Group for the industry
and the recently launched Facebook Group for "BIHA MEMBERS ONLY!!" at: BIHA Facebook Group for members only Please CLICK on the JOIN button near the top right hand corner of these two Facebook Groups and then we will approve you.
Please feel free to navigate around this page with the links below…
****New articles, ideas, newsletters etc. will be added on a regular basis****
Your FREE subscription to the PRIVATE Industry Discussion Forum at  www.BouncyCastleOwner.com  will be set up within an hour after you first join. (However, If you have not gained access within 12 hours please text 07880 – 540201)
Any problems? Please text 07880 540 201. (I prefer text or email in the first instance if at all possible). If you have not received a reply within 24 hours, please phone me. If your query is very urgent, please also phone me.
Here are the links to your "members only content"  PLEASE DO NOT SHARE IT WITH NON-MEMBERS AND ESPECIALLY NOT WITH YOUR COMPETITORS!
As a new BIHA member – one of the first things that you probably want to do is to set-up your FREE subscription to the lively PRIVATE discussion forum on the BIHA sister site at:  www.BouncyCastleOwner.com
This only takes about 2 minutes to do – and all you have to do is to fill out this short form , and it will automatically activate your subscription to everything on www.BouncyCastleOwner.com
If you have any problems – please text or call me on: 07880 – 540201 (I prefer text message)
FIRST STEPS – What to do first now you have joined
BOUNCY CASTLE SAFETY CARTOONS for you to download and show your customers
SLIDE SAFETY CARTOONS for you to download and show your customers
Important advice on hiring inflatables from RoSPA (Royal Society for the Prevention of Accidents)
REPORT 1 – 15 Quick Tips to immediately get you more bookings for your inflatables
REPORT 2 – How to turbo-charge your profits from hiring inflatables
REPORT 3 – Trust Factors to get you more bookings
REPORT 4 – How to start and run a profitable bouncy castle hire business
REPORT 5 – How to get more bookings using a buddy system
Funny one-liners from bouncy castle customers MUST READ!!!!
How to dry your bouncy castles after heavy rain by getting inside
How to quickly dry your bouncy castles after heavy rain
Documents
Terms and Conditions of Hire Form
Disclaimer written by a solicitor
Cartoon Safety Sheet – Bouncy Castles
Cartoon Safety Sheet – Childrens Slides
Cartoon Safety Sheet – Rodeo Bulls
Waiver of Liability and Assumption of Risk
************************************************************
Archived very early Newsletters from Oct 2001 to Jan 2004 (Some of the info is out of date but some of it is priceless (E.g. Timeless ideas, hints & tips)
(PLEASE NOTE THAT ALL THE USED INFLATABLES ADVERTISED IN THESE NEWSLETTERS HAVE NOW BEEN SOLD)
Special Reports published by the BIHA

o_18terqsjsuc89ir1pqu1hqe1bjha.pdf
***************************************************************************
Also, don't forget to register your business on our directory site at: Directory of BIHA members It only takes 2 minutes to do so.
You can see the old BIHA website (in archive format) at: https://web.archive.org/web/20140625041132/http:/biha.org.uk/ This is how the BIHA website looked before 2nd July 2014 before its more modern makeover. Many of the links still work OK.
Your access to the discussion forum at: www.BouncyCastleOwner.com will be granted approx. 1 hour after you join (If your username and password has not been received within 12 hours – then please text me on 07880 – 540201)


VERY IMPORTANT

– Don't forget to claim your discount (of up to 30%) on your PL Insurance premiums with Leisureinsure.
You will need to quote your membership number
You are free to use the BIHA logo on your business stationery, including business cards, letter heads, website, flyers etc.  You can even put the logo on your van and uniforms if you wish.
Here are some sample logos which you may wish to download…..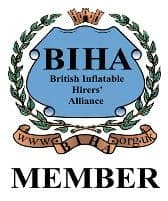 1) The 4 Proven Marketing Systems That Will Ensure 25% Growth Or More in Your Hire Business In The Next 12 Months!
Xtreme Tips (From The BIHA Tip of the Week emails)
Preparing your business for the Winter and how you can get extra bookings in halls
Free online tool to help your customers zoom in to your inflatables
The AMAZING Dennis Emery Profit System – Earn an extra £10 to £20 per booking!
12 words to reassure your customers that you will turn up!
How to get 10% to 50% more bookings by adding one little logo to your website
This cheap little device could help you recover your stolen inflatables or indeed any other leisure equipment etc. that might go missing.
19 Ways to advertise your inflatable hire business for free !
Spotlight on Inflatable Hire Companies.
Here are some of the members who have kindly answered these questions….
Colourful Castles Read their answers
Active Hire Read their answers
Bouncy Kings of Leicester Read their answers
Bounceroos-bouncy castles Read their answers
Jalmac Leisure Read their answers
First Class Leisure Read their answers
Boos Inflatable Games Read their answers
Bouncy Castle Fun World Read their answers
Little Rascals Bouncy Castles Read their answers
Tearaway Leisure Read their answers
Bennetts Hire Read their answers
Fun Times Bouncy Castle Hire Read their answers
The Bounce Department Read their answers
Bouncemania Read their answers
King of the Castles Entertainments Read their answers
Dazzlas Inflatables Read their answers
Twister Display Read their answers
The importance of Bounce House Safety (Must-see video from the USA)
*****************************************************************
HIRE TEMPLATES, DISCLAIMER, FORMS & SAFETY SHEETS
Here are some hire agreements etc….
Terms and Conditions of hire (including disclaimer form) . https://web.archive.org/web/20130625091737/http://www.biha.org.uk/condit.htm
Risk Assessment: https://web.archive.org/web/20130625140517/http://www.biha.org.uk/risk.htm
Safety Cartoon Sheet – bouncy castles: https://web.archive.org/web/20131214195933/http://www.biha.org.uk/safecartoons1/
Disclaimer written by a solicitor: http://www.biha.org.uk/premium-content/disclaimer-written-by-a-solicitor/